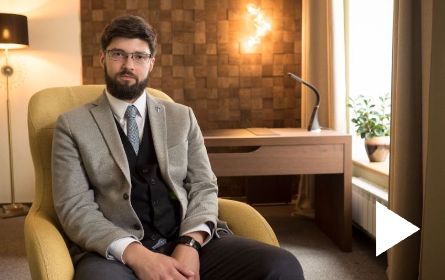 Oleg Vasilchuk| psychological psychotherapist
"I accompany the changes in thoughts, feelings, habits, relationships, symptoms andenhance development of your personality by coexperiencing psychotherapy. Let's get started!"

TRAINING AND WORK EXPERIENCe
• Graduated Moscow University of Psychology and Education – 2006-2011,Faculty of Counseling and Clinical Psychology, specialization in individual and group psychotherapy;

• Certified postgraduate psychotherapy training in coexperiencing psychotherapy (3 years);
•Private counseling practice – since 2012;

• Work experiencе in corporate, education, government agencies, non-profit organizations;

• My practice is based on classic evidence-based counseling practices;
• Trained in psychotherapy and counseling psychology under mentorship of professor Fyodor Vasilyuk, an internationally recognised Russian psychotherapist, psychologist and researcher;
• In accordance with the standards of psychotherapist training, I have my own experience of being a client of individual, marital and group psychotherapy;
• Working under supervision;

• I am a member of Russian Society of Person-centered Approach (organization member of PCE-Europe and WAPCEP).
In my practice, I effectively help overcome difficulties and reach the next level of quality of life in three contexts: personal, family and business.

The basis of my education and my practice is coexperiencing psychotherapy, a modern psychotherapeutic approach founded by Fyodor Vasilyuk and developed by his disciples. Practical roots the approach grow from Carl Rogers's humanistic person-centered psychotherapy, and the scientific roots grow from the cultural-historical activity approach by Lev Vygotsky and Alexei Leontiev.